Hey guys!
So in today's post, I thought I would tell you guys  about some of my favourite cleansers especially created for Teen Skin. I think that it is never too early to start looking after your skin,  (something I learned from my Beauty Expert Mama!) Up first in this series, are my  picks on tried and tested cleansers, which are gentle and perfect for teen skin.
1.  Spots and Stripes Gentle Cleansing Lotion. 150 ml – £13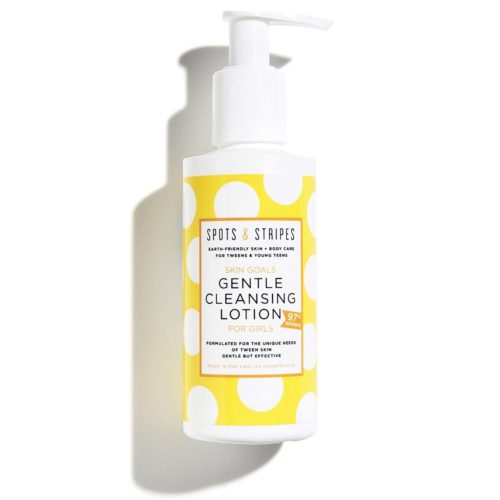 This is a really nice and gentle cleanser. It goes on like a lotion and then you wipe off with a damp cloth. It also has a really nice calming lavender scent and leaves my skin super soft. This is perfect for all skin types.
Spots and Stripes say :
The perfect starter cleanser
A super-gentle starter cleanser for young faces that has the effective cleansing power they need, without stripping their delicate skin of essential moisture. Vitamin-soaked oils, virgin coconut and kukui lift away impurities and leave skin feeling balanced and soft. All-star essential oils like chamomile, lavender and mint calm, refresh and combat blemish-causing bacteria.
https://www.spots-and-stripes.com/product/girls-gentle-cleansing-lotion/?gclid=EAIaIQobChMI7t2Nt4ec7wIVia3tCh2rgQE-EAQYAiABEgIgCPD_BwE
2. Nip and Fab Teen Skin Fix Night Wash 145 ml – £6.99
This wash is really nice as it is super gentle. Nip and Fab have a day and night wash to tackle specific needs. Their whole Teen Skin Range has ingredients like Wasabi Extract and Salicylic Acid.  This is perfect is you have more oily or combination skin as it removes all excess oil.
Nip and Fab say:
This powerful night facial wash is enriched with antibacterial extracts to help skin stay clear of breakouts without drying the skin. Teen Skin Fix Pore Blaster Wash Night instantly removes impurities, dirt and excess oil to unclog pores and reveal smoother, clearer + fresher looking skin.
Key benefits:
wasabi extract: a powerful antioxidant + antimicrobial agent
salicylic acid: helps unclog pores to prevent breakouts
tea tree oil: renowned for its potent purifying properties
https://www.nipandfab.com/skincare/concern/pores/teen-skin-fix-pore-blaster-wash-night
3. Green People Oy Clear Skin Foaming Face Wash 100 ml- £13.50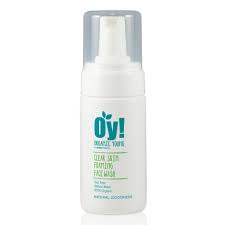 This is a great cleanser for acne prone skin. I find that I only need a really little bit for my whole face. I also really like the fact that it tackles breakouts really well but doesn't irritate my skin.
Green People say:
Promotes a blemish-free complexion – knocks the spots off the rest
Contains Willow Bark to reduce inflammation and kill bacteria
Tea Tree extract also helps to control bacteria
Suitable for all skin types, even sensitive and acne-prone skin
90% certified organic ingredients
Concentrated formula: a little goes a long way
Organic Green Tea, Willow Bark, Witch Hazel, Sage & Tea Tree
https://www.greenpeople.co.uk/products/oy-clear-skin-foaming-face-wash-100ml?variant=33041563025453&utm_source=google&utm_medium=free_listings&utm_campaign=free_listings_feed&utm_content=free_listings_ads&gclid=EAIaIQobChMIzfiO2ZKc7wIVWuztCh2CEgrYEAQYASABEgI7rPD_BwE
These cleansers are perfect for my skin personally but be sure to check the ingredients and try out different products to see what works for you.
Hope you guys enjoyed this post and let me know what else you want to see!
Iman XoXo